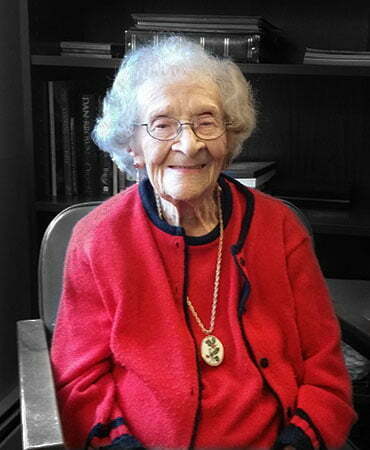 Don't let the photo fool you — when a girl is fortunate to pass 100, she is bound to have bits of history you may enjoy reading . . .
Going back to 1922, the Baptists of Rhode Island recognized the need for supporting and caring for the elderly.  A charter for the original Baptist Home was granted in 1947.  So, our journey of faith was started, and in 1948 we purchased the Watts Sherman Estate located at 2 Shephard Avenue in Newport.  After many repairs and alterations, dedication took place on November 7, 1953, and twenty-four seniors moved in.
Happy times were soon punctuated by minor illnesses–part of aging.  Thoughts turned to adding an infirmary to provide nursing needs for at least a third of the residents.  The Brown Memorial Wing was dedicated on October 6, 1963.
New issues occurred in 1966 with the birth of Medicare.  It soon became apparent that we would need financing for problems concerning the safety and security of our residents.  Even with all the complications facing us we were not discouraged, so onward we went.  We hoped to build a new four-story building on Shephard Avenue, but were turned down by the Newport Residential Board.
When all plans failed, the site of Valley Road in Middletown was acquired.  This very property once comprised the home and farmstead of the Rev. Dr. John Clarke.  So, with another leap of faith, plans were completed to erect a multi-story building — a Retirement Center with fifty independent living apartments and a connecting Nursing Center with 50-bed capacity – and the building we now inhabit opened in 1980.  Peace and quiet reigned for ten years, when a wing was added to the present Nursing home to accommodate ten more beds.  Ground was broken in 1989.
Now, except for normal repairs and improvements to both facilities, life goes on.  If one is looking for a family-friendly, spiritually aware, spot to spend their later years, 600 Valley Road is an ideal place.  Although we are joined with the Nursing Home, we are an Independent Living Facility.  We do enjoy several "perks" that can be elaborated upon when requesting information.
I have been active in the Home's growth since 1940 and served on the board for several years.  I've loved every minute of it.