October 2021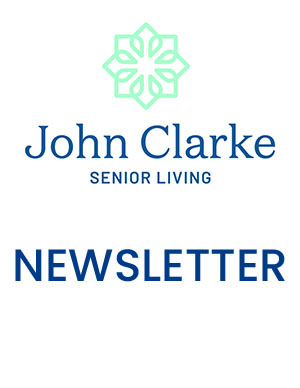 John Clarke Senior Living October 2021
September 2021 Newsletter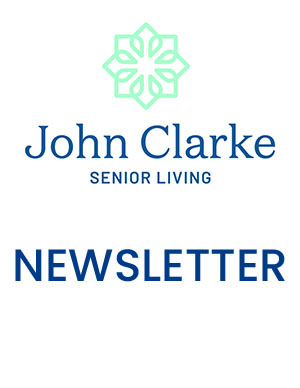 Message from Joan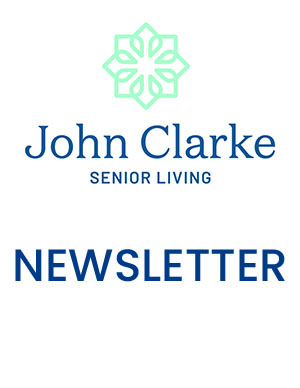 Dear John Clarke Community,
I am thrilled to announce that Karen Piacentini has recently joined our Board of Directors.  Karen is a former executive at United Health Care and her expertise in health care and as a board advisor will greatly benefit John Clarke Senior Living.  Please see her full bio in this newsletter.
I am delighted to report that we have applied for and received several grants this month.  We are grateful to the following organizations for their generous support of our John Clarke Senior Living:
The Champlain Foundation: $90,0000 for roof replacement.
The Fred M. Roddy Foundation: $13,844 for the purchase of mechanical lifts and
specialized chairs.
Newport Fed Bank: $4,000 staff support from The Schwartz Center for Compassionate
Care.
The van Beuren Charitable Foundation: $3,750 for Diversity and Inclusivity Training.
John Clarke Senior Living is a charitable, non-profit, 501c(3) organization.  Most of our revenue comes from the State of RI and pays only about ninety cents for every dollar we spend. We rely on support from our donors to provide capital for meaningful physical plant, programing, and educational opportunities.  Please consider us when thinking of making your charitable donations.
I want to thank the residents of the Independent Living community for their patience and fortitude during the flood that occurred on the 19th.  We had a sprinkler main break at about 7:30pm on Saturday that was discovered about a half hour later.  Nine apartments have been evacuated and several more were affected.  The recreation room, laundry room, corridors and foyer will all be under construction as well.  It will take several weeks to repair the damage and we will continue to rely on everyone's tolerance and patience while we restore the building.
We have many exciting activities planned this month so be sure to check out the calendar.
Warm Regards,
Joan M. Woods, CEO
The Apostle Paul taught the church, "Let us consider how to provoke one another to love and good deeds, not neglecting to meet together as some is the habit of some, but encouraging one another…" (Hebrews 10:24). Friends, our community has experienced pandemic and now flood together. Some would say these are Biblical events. While that may be true, what we have learned here at John Clarke Senior Living is how to build community – especially when things are hard.
During the recent flood in the Independent Living portion of the building (when a sprinkler pipe broke) the community building skills we learned through Covid were apparent in our response. Our residents responded quickly helping one another, contacting the appropriate agencies, and notifying our leadership team. Most importantly, residents, first responders and our staff worked collaboratively to make sure every resident was safe. Many residents needed to be relocated to a nearby hotel which was successfully accomplished by a whole team effort. The process of moving residents to safe housing while the apartments are renovated, and the building is repaired has been an inspiring sight.
In the middle of that momentous task, life continues at John Clarke. We continue to provoke one another to love and good deed and encouraging one another. One morning there was a case of freshly picked strawberries waiting in my office. Our Chaplain's Cupboard community food shelf continues to regenerate itself daily. Pies and goodies are baked and shared among neighbors. Memorials are still planned and observed. And, the return of summer concerts and outdoor activities has blossomed this year as residents are able to gather safely outside.
The act of continuing to meet with each other, weekly worship and study, our newcomers' welcome events, summer concerts, coffee hours are the scaffolding that builds relationships in communities. These activities are anchors to our hope in each other as we provoke one another to love and good deeds while encouraging one another. May God continue to be with our community and continue to provoke us to love – even when events are difficult.
In Peace, Chaplain Ray
The Maui Wowie Burger
If you got a briquette style BBQ, break it out and get the coals going for this treat. If not, a gas grill will work just fine.
Ingredients:
2 lbs. Ground beef/chuck/sirloin 80/20
1 pack sweet Hawaiian burger roll
Tsp. Salt and pepper
Tsp. Ground ginger
½ c. Soy sauce
½ c. Teriyaki sauce
Tsp. brown sugar
1 small yellow onion diced super fine almost minced
1 red onion sliced semi thick
4pc. sandwich slice cheddar cheese
1 can or fresh pineapple rings
Directions:
Mix Soy, Teriyaki, ginger, salt, pepper and brown sugar and split in 2 bowls.  Pour the pineapples in one bowl and set aside. Add the minced onions and beef to the other bowl and mix up with your hands. Make 4 patties with a thumb dimple in the middle of each (helps to cook evenly). Grill the burgers to your preferred temperature and grill up the pineapples and sliced onion as well, the pineapples will not take long about a minute each side. Toast the rolls and build the build the Maui Wowie- bottom bun, burger, sliced red onion, cheese and then the pineapple.
Happy 4th of July, enjoy!
Chef Scott, Food Service Director
March 2021 Newsletter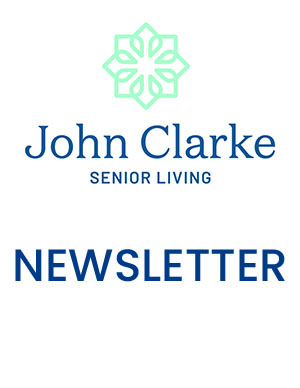 Dear John Clarke Community,
I am longing to see the daffodils and crocuses this year and now we will have a very special way to see Spring!    We have partnered with the Own Valley Health Campus in Indiana and The Indiana University (IU) Therapeutic Recreation students to help us "Trace Spring" across the United States.  Why trace spring?  We have been in isolation for many months and need to get outside our 4 walls!  This project takes us into the world of many who have experienced the same thing we have for almost a year and we need to stimulate our minds with something new!  We will be joining centers across the US to share in the joy of Spring.  Anticipation is heightened as residents receive messages and photos from other facilities!   It is an eye-opening connection, as we in Rhode Island don't know what is going on in California or Maine, but we will soon!  Keep an eye on our Facebook page for updates on this wonderful project.
Thanks to all for your patience while our plumbing is upgraded in the retirement community.  I know it is challenging to have water shut off for any period of time, but we are very glad that we won't be experiencing leaks going forward.
We are very grateful and feel very blessed that our small community has had very little COVID-19 during the last year and that our residents and staff are all healthy.  We continue to remain vigilant, however and follow all state and federal infection control guidelines.  We eagerly await the days when we can openly welcome visitors without appointments, personal protective equipment and barriers!
Warm Regards, 
Joan
Chaplain's Corner
Lenten Morning Prayer
God, our liberator,
Free us from the chains of selfishness
And the false idols of materialism.
Move us to show regard for the lowly,
Advocate for the voiceless,
And rescue victims from their oppressors.
Remove the grind of poverty
by opening our hearts and minds to your Gospel message to love our neighbor.
Awaken our desires with the gifts of your Spirit,
so your justice may be fulfilled.
In Christ, we make this prayer.
~William Purcell, '86, '92 MDiv, Notre Dame University Center for Social Concerns
As we draw close to the Spiritual simplicity and humility of Lent, I am reminded of this Scripture:
"Come, you who are blessed by my Father, take your inheritance, the kingdom prepared for you since the creation of the world. For I was hungry, and you gave me something to eat. I was thirsty and you gave me something to drink. I was a stranger and you invited me in. I needed clothes and you clothed me. I was sick and you looked after me. I was in prison and you came to visit me" from Matthew 25.
It is clear to see our work as frontline caregivers in this text from the Gospel. This is the heart of our mission to love our neighbors and care for our community with dignity, compassion, and respect. The Lenten prayer (above) comes from the campus of Notre Dame University where staff and students published a book of prayers through the Office of Campus Ministry
in 2010.  The work of a Chaplain, whether in a care facility, campus or prison, is to be a Spiritual and Moral presence through difficult times.  One of the tools of the trade is keeping  our Liturgical traditions; remembering to mind the cycle of the church year.  These annual cycles help keep us grounded in rituals that remind us that God is with us—past, present, and future—even through challenging times.  And prayer is the binding thread that sews the seemingly separate events and people together.
There are times in our caregiving when providing foo, drink, hospitality, clothing, and visitation is the most visceral way to show our love to one another.  And there are other times, when the physical presence is not possible, when prayer is the MOST we can do.  Throughout the pandemic, we have not always been together in physical ways providing food, drink, hospitality, clothing and visitation and in those difficult times of distanced relations our best offering is the gift of prayer.
Friends and family, continue to pray for our residents.  As we gain access to vaccination and navigate our next phases of community, pray for advocacy for the voiceless, food for the hungry, drink for the thirsty, invitation to the stranger, clothing to the needy, care for the sick and visitation.  In Christ, we make this prayer.
Racquel R. Ray, MDiv
Chaplain
Online Activities
The American Baptist Church of Rhode Island is offering weekly Lenten Devotionals on-line. Subscribe to the weekly email at Elder Care Ministries http://eldercare.abcori.org/lenten-resources.html
Age Friendly Rhode Island is offering a Virtual Community Center! The site is loaded with activities for seniors that are safe and socially distant. Engage online at Age-Friendly Rhode Island | Ways to support Rhode Islanders as they age (agefriendlyri.org)
In Person Activities
Fireside Chats with the Chaplain. Thursdays 2-4, Chaplain's Office. Come sit by the 'fire' and have a chat. Warm beverages provided! (excluding Thursday March 25th due to Memorial Service)
Bible Study. Fridays 2-3, Chapel. A wonderful way to wind down the week. This is a casual conversation about scripture and how it impacts us. Books provided. All denominations and biblical knowledge levels welcome!
Communion Service. Sundays 3:15pm in Nursing Center, 4pm in the Chapel. Ecumenical service is welcoming to all denominations. Service includes prayer, scripture, short homily. Covid-safe individually wrapped, sterile, single use, Communion elements are distributed with safety protocols in place.
Memorial Service. Thursday March 25, 10am Chapel, 2pm Nursing Center. Join Chaplain and Staff as we remember those we have lost over the past few months. Also available via Zoom. rray@jcrcri.org
Corn Chowder
Ingredients
1-quart heavy cream                                                             2 roasted red peppers diced
2 bags 12-16oz frozen corn or  6 trimmed ears
2 quarts whole milk                                                                half a bunch celery diced
2 and 1/2 sticks butter 1 yellow onion diced
4oz all-purpose flour Salt and pepper
2 tbsp. concentrated chicken base (paste) 2 tsp. ground thyme
1 can chicken stock 2 tsp. ground sage
½ pound bacon 2 tsp. paprika
Directions
Set oven to broil
In a stock pot fry bacon on medium heat until brown remove and set aside bacon. Add celery, onions pinch pepper pinch salt, 1 tsp sage, 1tsp. thyme 1 tsp. paprika sauté until translucent then add the roasted red peppers and continue to sauté scaping all the fond from the bacon to add flavor. Set aside all the cooked vegetables. On a cookie sheet spread out the corn and top with a ½ stick melted butter pinch of salt and pinch of pepper and broil in oven until lightly roasted about 2min, this brings out the natural sweetness of the corn as well as adding a bit of smokiness to the soup set the corn aside. Go back to your trusty stock pot and let's make some roux. Melt 2 sticks of butter and whisk in the flour depending on how smokey or dark you want your chowder is how long you cook the roux I prefer a slight brown color roux. Slowly add the whole milk and continue to whisk as it thickens slowly add more milk then add the heavy cream until you reach your desired thickness. Add all of your veggies you set aside as well as the rest of your sage, thyme, paprika, chicken paste and add salt and pepper to taste. Simmer and stir occasionally on low to med heat for 30 to 40m if the soup is too thick you can add some of the chicken stock. While the soup simmers enjoy the bacon, you set aside with a glass of your favorite wine as a celebration of a job well done.
February 2021 Newsletter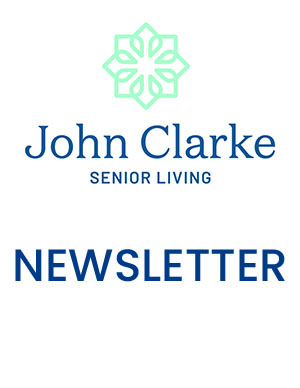 Dear John Clarke Community,
I am grateful that the new year is off to a healthy start.  We have had minimal COVID-19 cases and the nursing center staff and residents have received their vaccinations.  We are eagerly awaiting and advocating for the retirement community residents to receive theirs.
We are working on two capital projects at the moment.  One is an extensive plumbing project in the retirement community that will replace all the main water pipes.  The other project is a roofing project for the south side of the retirement community that is just coming to an end.  We are very grateful for the grant from the Champlain Foundation that will help pay for the plumbing project.
Please join me in welcoming our new Business Office Director, Bill Efthimiades, who is replacing Carolyn Moy.  Carolyn will be dearly missed and we wish her the best with her new endeavors.
Warm Regards,
Joan M. Woods
Chaplain's Corner
I recall last year my seminary classmates joked that last Lent was the "Lentiest Lent" they had ever seen.  As our field work internships were cancelled, senior trip to Canterbury England cancelled, campus closed, and Commencement cancelled, we went our separate ways without a ceremony or goodbyes.  Each emerging minister called to their own new role alone.  I felt called to be alongside this community through the COVID pandemic.  To accompany seniors in the uncertainty of this past year and beyond.
I feel that we haven't really left last Lent.  Remember many churches closed to in-person worship during Lent and many did not celebrate Easter.  We seem to still be, Spiritually, in the liminal space of Holy Saturday still waiting for the sunrise of Easter morning.  Over the year, we have been witness to such unbearable suffering that it seems even the early itself would cry out.
We have all been directly effected and affected by the COVID 19 virus.  At the beginning of the virus, we prayed for one John Clarke family who had a relative who had been exposed to the virus.  Throughout the year, the virus has come closer and closer in increasing numbers.  It has directly effected members of the community.  Those of us who have not contracted the virus are living with the weekly stress of the testing results, the worry over loved ones, and the dread of knowing the danger we face.  Our recent first day of vaccinations was a day of mixed emotions.  I was both relieved to be among one of the world's privileged first few to receive the first dose and keenly aware of that privilege.  I am keenly aware that my children and spouse do not have such privilege.  I am sorry that our independent residents are also still waiting for their vaccinations.  I join with in the many ways the world is grieving.
Lent is traditionally a season of prayer, scripture reading, and sacrificial giving.  I wonder if our nations has any energy left for one more prayer, another page of scripture, or giving up anything else?!  Haven't we all had a year's worth of Lent already?!
This year, during the 40 days of Lent from February 17th to Easter on April 4th (Sundays are excluded from the 40-day count)  I plan to NOT give up anything.  Instead, I plan on sharing with others the gift of time.  In that light please join me for Ashes to Go in the Chapel on February 17th from 8am-10am.  And for Soup to Go every Friday afternoon in the Chapel Kitchen from 3pm-4pm through Lent.
Fireside Chats with the Chaplain will continue on Thursday afternoons in the Chaplain's office.  Friday afternoon Bible Study continues.  You will see new program inspired by the participating in the regular Sunday afternoon Chapel Communion Services, Chaplain's Closet, will offer shelf stable food essential for any resident  who needs it for any reason.  Lastly, I will be starting an Independent Resident Advisory Council to address the needs of these community members.  I pray that YOU will share the gifts of YOUR time with ME.
Racquel R. Ray, MDiv
Chaplain
Red Velvet Cake
From Our Chef's Table
RED VELVET CAKE
 Ingredients:
 Ingredients for the romantic red velvet cake
 2 and 2/3 cups cake flour (spooned & leveled)
1/4 cup natural unsweetened cocoa powder
1 teaspoon baking soda
1/2 teaspoon salt
1/2 cup unsalted butter softened to room temperature
1 and 3/4 cups granulated sugar
2 large eggs room temperature
1/2 cup canola or vegetable oil
1 bottle liquid red food color
2 teaspoons pure vanilla extract
1 teaspoon distilled white vinegar
1 and 1/3 cups buttermilk room temperature
Ingredients for the cream cheese frosting:
12 ounces cream cheese softened
3/4 cup unsalted butter softened to room temperature
3 cups powdered sugar
1 and 1/2 teaspoons pure vanilla extract
Instructions
Create the heartwarming cake
Preheat oven to 350°F. Spray two 9-inch cake pans well with nonstick cooking spray, line the bottoms of the pans with parchment paper, and set aside.
In a large mixing bowl, whisk together the cake flour, cocoa powder, baking soda, and salt. Then sift the dry ingredients to remove any lumps of cocoa powder. Set aside.
In the bowl of a stand mixer fitted with the paddle attachment, or in a large mixing bowl using an electric mixer, cream together the butter and sugar on medium speed for 4-5 minutes. Add the eggs and mix until fully combined, then mix in the oil, red food color, vanilla extract, and vinegar stopping to scrape down the sides of the bowl as needed.
Mix in the dry ingredients in three additions alternating with the buttermilk, starting and ending with the dry ingredients. Make sure to mix each addition until just combined and be careful not to over mix the batter.
Evenly distribute the cake batter between the two prepared cake pans and spread the batter around into one even layer. Tap the pans on the counter 2-3 times to remove any air bubbles from the cakes.
Bake at 350°F for 28-32 minutes or until a toothpick inserted into the center of the cakes comes out clean. Carefully remove from the oven and place on a wire rack to cool in the pans for 15-20 minutes. Then, carefully remove the cakes from the cake pans and place on the wire rack to cool completely.
Whip up the frosting
In the bowl of a stand mixer fitted with the paddle attachment, or in a large mixing bowl using an electric mixer, beat the cream cheese until smooth. Add the butter and mix for about 30-60 seconds until well combined and smooth.
Mix in the powdered sugar and vanilla extract and continue mixing until fully combined, scraping down the sides of the bowl as needed.
Build a thing of beauty
Level the tops of each cake with a knife or cake leveler. Place one of the cake layers on a cake stand or plate, top with a layer of frosting, and smooth it out into one even layer. Place the second layer on top, then use the remaining frosting to frost the top and sides of the cake. Share with the one you love and Happy Valentine's Day.
-Chef Scott
2021 January Newsletter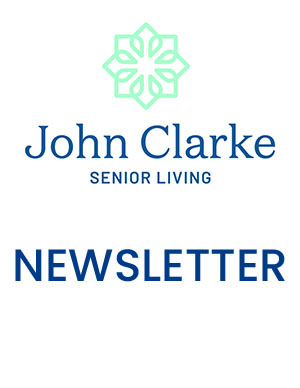 Dear John Clarke Community,
Happy New Year!  I am so grateful to leave 2020 behind and look forward to a year in which the COVID-19 vaccine is abundant and we can get back to our normal lives!
Whether you spent time with family, friends, or just a good book, I hope each of you all had a wonderful holiday.
January represents fresh start.  It's a time to reflect, practice gratitude, and focus on opportunity, which is why it has always been one of my favorite months of the year.
While it seemed at times that things were constantly changing in 2020, as I reflect on the big picture, I am actually struck by how much resiliency and positivity there was here at John Clarke. We have been challenged beyond compare with heroic efforts to keep the community COVID free.  The arrival of the vaccine.  I truly look forward to the day when we can welcome family, friends, visitors and entertainers back in without reservations.  I'd like to encourage you to make sure you're signed up for our newsletter and that you're following us on social media so you don't miss updates like these.
On that note, I'd like to close today's update with a direct request: we want to know what information matters to you.  What kind of topics are valuable?  What do you want to see more of?  Where can we help you the most?  Please send us your suggestions!
Warm Regards,
Joan M. Woods
Chaplain's Corner
Throughout this season a phrase from Charles Dickens' A Christmas Carol has stuck with me. A phrase used to describe Belle, Scrooge's former fiancé as "a spring-time in the haggard winter of his life"  (Dickens, 1843). As a congregant health care community we are prepared for any scenario. But, we also embraced the joy in each day, in each activity and each celebration. As we held onto Advent and Christmas traditions (in new and safe ways) we realized that the core message in the Nativity story is unchanging. Emmanuel, God is With Us. Jesus, the Light of the World broke forth into the haggard winter, bringing spring.
In June, our book clubs read In the Bleak Midwinter by Julia Spencer-Fleming (Spencer-Flemming, 2002). In June, I wondered if we would still be struggling with the pandemic in winter? Or, if in winter we would be looking back to the difficulties of June and processing the trauma? As we continue to face the current challenging times the lyrics from the title hymn have also resonated with me throughout the season:
In the Bleak Midwinter (1872)
Lyrics by Christina Geogina Rossetti (1830-1894); Music by Gustav Holst (1874-1934)
In the bleak midwinter, frosty wind made moan,
Earth stood hard as iron, water like a stone;
Snow had fallen, snow on snow, snow on snow,
In the bleak midwinter, long ago.
Our God, heaven cannot hold him, nor earth sustain'
Heaven and earth shall flee away when he comes to reign;
In the bleak midwinter a stable place sufficed
The Lord God incarnate, Jesus Christ.
Angels and archangels may have gathered there,
Cherubim and seraphim thronged the air;
But his mother, in her maiden bliss,
Worshipped the beloved with a kiss.
What can I give him, poor as I am?
If I were a shepherd, I would bring a lamb;
If I were a wise man, I would do my part;
Yet what I can I give him: give him my heart.
What I have experienced so far this winter is that the members of our community have each done their part. In the role of the midwinter wise men, each has offered their own gifts; what they have to offer. Some have offered gifts of companionship, correspondence and cards, treats and goodies, warmth and comforts. The season brought the traditional unchanging Good News of the Nativity story in the midst of the bleak midwinter. The darkest days brought the brightest lights of friendship!
As we look toward the New Year, new season, we look with anticipation toward the 'springtime in the haggard winter' of this difficult time. We have hope as we await the coming vaccine and the eventual resulting benefits rippling throughout our community. Though The Old Farmer's Almanac 2021 edition (Thomas, 2021) is predicting a long winter with snow through March, we have much work to do. Our sustaining love of Christ and one another shall bring us a springtime in this haggard winter and each doing our part shall sustain our community.
Racquel R. Ray, MDiv
Chaplain
Beef Stew
From Our Chef's Table
Chef Scott Hahn
BEEF STEW

INGREDIENTS

2 pounds cubed beef stew meat                          ½ teaspoon ground black pepper

3 tablespoons vegetable oil                                    3 large potatoes, peeled and cubed

4 cubes beef bouillon, crumbled                         4 carrots, cut into 1-inch pieces

4 cups of water                                                           4 stalks celery, cut into 1-inch pieces

1 teaspoon dried rosemary                                     1 large onion, chopped

1 teaspoon dried parsley                                          2 teaspoons cold water

2 teaspoons cornstarch

DIRECTIONS

Add the oil to a Dutch Oven, or a large, heavy-bottom pot.
Cook the beef in batches over medium heat until brown. Ensure to cook on all sides and move to a plate while cooking the rest. Be careful not to overcrowd the pot.

When the beef is all browned, dissolve the beef bouillon in hot water and then add to the pot.
Carefully place the beef back into the pot, with the liquid and seasonings.
Bring everything to a boil before reducing the heat to a low simmer and covering with the lid.
Leave the beef to simmer for an hour, checking occasionally and stirring to prevent anything from sticking. · While the beef cooks, wash, peel, and cut your vegetables. Be careful not to cut them too small, so that they keep their form after cooking.

In a small bowl, make a "slurry" using the cornstarch and 2 teaspoons of water. Mix it thoroughly until totally smooth.

After an hour, add in the vegetables and slurry, stirring everything through.
Cover the pot and let simmer for another hour, stirring occasionally.
Serve in a big bowl with crusty French bread.
December 2020 Newsletter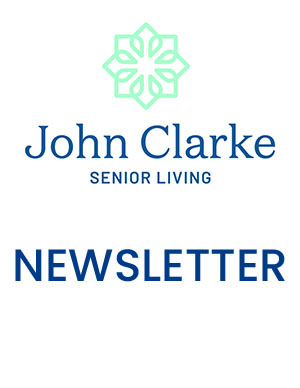 Dear John Clarke Community,
Warm Holiday Greetings!
During my first year with John Clarke Retirement Center, one thing that stands out above and beyond all else is PASSION. Each person I have met cares deeply and genuinely for patients, family members, caregivers and the mission. I am honored to be in such a committed community. I have a deep appreciation for our dedicated and hardworking staff and volunteers.
As the year comes to a close, John Clarke's Board of Directors is leading staff through a strategic planning initiative to guide future growth and ensure sustainability. I look forward to reporting throughout the year on the impact this process will have on ensuring that John Clarke remains our community's trusted provider of senior housing and nursing services.
Despite the challenges of the pandemic, the community has come together on numerous occasions to ensure that we have a joyous, fulfilling environment. We have incorporated technology to help us connect with loved ones and to the world around us. We enjoyed some amazing events this year including a Food Truck event, numerous entertainers that creatively came up with ways to reach our residents in a safe manner, pizza parties and outdoor gatherings.
We are eagerly looking forward to a vaccine and a time where we are able to freely gather, and welcome family and friends through the doors once again.
Wishing you a happy holiday season,
Joan M. Woods
The giant Dawn Redwood tree, the Metaswquoia glyptostroboides, at Blithewold, is losing its leaves. Remember in the spring I wrote about its appearing to be dead. But, as the spring ebbed on it sprouted the most hopeful vibrant green sprigs. Right now, the tree once again – as in the early spring – looks dead. Its branches are bare, naked, brown, and pendulously sweeping in downward frowned arches swaying in tumultuous New England autumn winds. An unexperienced person would cut it down believing it to be hopeless. It mirrors our landscape both physically and figuratively. Things appear bleak right now. Where can we find hope?
That is the meaning in many of our winter rituals and carols as Christmas approaches. In the Bleak Midwinter, Silent Night, and the various festivals of lights such as Hanukkah, Yule, and Advent. We recognize the darkening days and lengthening nights while remaining expectantly hopeful. The Spiritual Care programming for this month will acknowledge this season of long dark nights by taking time to contemplate with our Taize music and prayer services, to study with our Book Club, and celebrate light with The Tree Lighting, The Advent Wreath Lighting and the Menorah Lighting.
As we await the Christmas celebration, we offer several options that remind us of the hope we have in the Nativity. The winter solstice turns our days longer and nights shorter and we begin to see the light dawning a few days before Christmas. Our hope is restored in the remembrance of Christ's birth and the expectation of the prosperity for the coming New Year. The landscape may be bleak for now and in the weeks to come. But, we can find hope in our celebrations and in our community – together.
Racquel R. Ray, MDiv
Chaplain
Italian Christmas Cookies
2 ½ cups all-purpose flour
2 teaspoons baking powder
½ teaspoon salt
1 ¼ cups granulated sugar
1/2 cup butter, softened
1/3 cup whole milk ricotta cheese (from 15-oz container)
2 teaspoons grated lemon peel
2 eggs
1 teaspoon vanilla
Frosting
2 ¼ cups powdered sugar
3 to 4 tablespoons lemon juice
food coloring and sprinkles as desired
1.Heat oven to 350°F. In small bowl, stir flour, baking powder and salt.
2.In large bowl, beat granulated sugar, softened butter, ricotta cheese and lemon peel with electric mixer on medium speed about 1 minute or until fluffy; scrape side of bowl. Beat in eggs, one at a time, just until smooth. Stir in vanilla. On low speed, beat flour mixture into sugar mixture until well blended. Cover and refrigerate 30 minutes.
3.Using floured fingers, shape dough into 54 (1-inch) balls; place 2 inches apart on ungreased cookie sheets. Bake 9 to 11 minutes or until set but not brown. Cool 2 minutes; remove from cookie sheets to cooling rack. Cool completely, about 15 minutes.
3.In small bowl, beat powdered sugar and 3 tablespoons lemon juice with spoon until smooth and spreadable. If frosting is too stiff to spread, add additional lemon juice, 1 teaspoon at a time. Tint with food color. Using knife, spread 1/2 teaspoon frosting on each cooled cookie; immediately top with sprinkles. Let stand about 30 minutes or until frosting is set. Store covered in airtight container at room temperature.
November 2020 Newsletter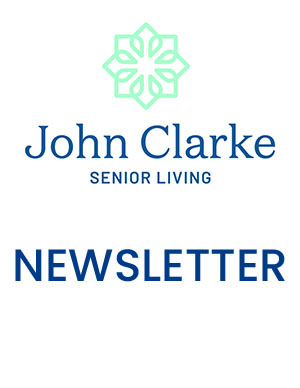 Dear John Clarke Community,
Happy Autumn to All!
I am happy to report, that as of this writing, we remain COVID-19 free at John Clarke. We are remaining vigilant in our efforts to protect ourselves and our residents through stringent infection control procedures and processes.
While we have made visitation at the Nursing Center an absolute priority for our residents and families, we will be adhering to the guidance and regulations that the State of Rhode Island promulgates regarding visitation. As of this writing, the Governor has announced that she is making changes to our rules for visitation for the next couple of weeks. As I am informed of these changes, I will send them our via our text/email notification system.
We have made lots of strides with our technology – both software and hardware and will be doing our best to keep us all connected.
We are extremely hopeful that the efforts we all take now will allow us to move beyond this trying time and to be able to resume normal visitation during the upcoming holidays.
Our next Family and Friends Zoom Meeting for the Nursing Center will be on November 12th at 1:30pm. Please look out for a text or email that week with the link and call in information.
Please feel free to reach out with any questions.
Warm Regards,
Joan


I have been reading the history of the Baptist Home over the past few months. Our resident Historian, Madeline Millen, shared her scrap-book with me. I think understanding our history and learning from past lessons will help us in our current context. Our community is special. I often tell prospective residents and em-ployees that I have yet to meet a resident who expresses regret for moving in at John Clarke. Recently, a devoted family member said having his dad here was like having a weight lifted off his back. He no longer must carry dad's safety and care alone.
What sets us apart from other care facilities, in addition to our history and foundation as a Baptist organization, is the level of dedication and compassion of our staff. Historically, this is our model. In a Journal-Bulletin article from about 1978 titled Baptist Home for Aged Run with Family Theme, that history is exemplified, "When a man and a woman who lived in adjoining rooms at the Baptist Home recently decided to get married, officials at the facility quickly de-cided who was going o live where. With the residents' permission, they simply cut a door in the wall between the two rooms. This demonstration of flexibility and humanity is duplicated in few elderly residences anywhere." (Gariepy, ~1978 )
When faced with challenges, the staff at John Clarke demonstrates flexibility and humanity. We asked, "What CAN be done?" and "How CAN we do it safely?" Our solutions are innova-tive and deserve recognition. Our family visits have been designed to facilitate visits safely, demonstrating both flexibility and humanity. Our small group and individual activities have been redesigned to be safe and flexible. Our care staff has found ways to keep our residents safe while practicing flexibility and humanity, even through end-of-life care. Our staff is able to pivot during challenges to find creative solutions. As we observe the holidays coming in November, let us remember to say a prayer of THANKS for our care staff. They deserve our gratitude.
We have always cared about the person-centered care; putting residents wishes in the fore-front. This is also historical. During the construction of our current building on Valley Road, Rev. M. Harry Randall the home's administrator said, "The theme of family just governs every decision we make…If you can't let the people live they way they'd like, then what's the point?" We are so blessed to work and live in such a place! (Gariepy, ~1978 )
Racquel R. Ray, MDiv
Chaplain

October 2020 Newsletter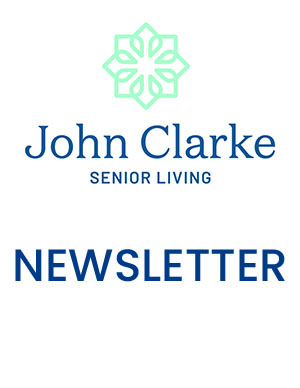 Dear John Clarke Community,
The days have already turned crisp for Autumn is in the air. Pumpkin spice abounds. Our employees are back to juggling day care and school in a whole new way this fall – please keep them in your prayers as they navigate all the new rules.
We are getting ready to send out our Annual Satisfaction Survey this month and strongly encourage you to complete it. Not only do we want to know how to serve you better, we will use the data to inform our strategic planning.
We had an amazing visit from LaCosta Lobster and Taco Food Truck in September. A hearty Thank You to all who donated to make this wonderful event happen for our Community. The weather was simply gorgeous, and the food was delicious. Please see our Facebook page for photos of this wonderful event.
Our nursing center's visitation will be revised for the winter months. We are waiting for acknowledgement from the Department of Health and will send out the details when we hear back.
Warm Regards,
Joan
We are now at the place in our global communities where we are all experiencing burnout and fatigue. We are tired. Author Polly Greenberg wrote a children's book called, Lord, I Wish I Was a Buzzard (Macmillan 1968). It is illustrated by Aliki and depicts the story of a young girl who joins her family in the cotton fields to pick cotton from sun rise to sun set in the hopes of getting a lollipop. Lately, I have been reciting the refrain of the story, "Oh! Lord, we were tired."
We must all find our own ways of managing stress, burnout, and fatigue. In the past week, I have heard no less than seven people speak about getting massages. The conversations ranged from going for massage therapy weekly to putting off prescribed massage therapy for months due to community safety concerns. In addition to massage therapy, others schedule self-care by spending time with family, getting a manicure, meditation, getting enough sleep, writing a letter, taking care of that doctor's appointment, prayer, yoga, visiting with friends or neighbors, or just spending time away from electronics.
Lately, I have been going on hikes with my family. On a day off, we will search for a family friendly hiking trail, pack a lunch, some waters, sunscreen and bug spray and a sense of adventure. I get the benefit of heart-healthy cardio and cortisol-reducing stress relief, my kids get exercise and we all get fresh air.
Here at John Clarke, our Activities folks have been hard at work making sure our residents have opportunities to go outside. Since the first warm-ish day in April, we have been bringing folks outside; enjoying the sunshine and fresh air. We have had musical entertainment and a few cookouts. Even our family visits have brought our folks outside. Nature has been a healing balm for our residents and for me!
As the cooler weather comes, may we continue to be blessed with warm-ish days. May we continue to find new trails. May we be aware of our own fatigue and find ways to rejuvenate. May we continue find ways to connect with God, Neighbor and Self through innovation and exploration. May God continue to keep us healthy, and care for us tenderly knowing that we are all so tired.
Racquel R. Ray, MDiv
Chaplain
September 2020 Newsletter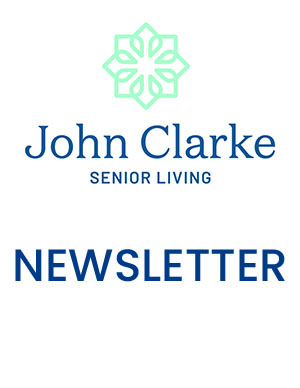 Dear John Clarke Community,
I am grateful to report that, as of this writing, we remain COVID-19 free. This is, in part,
due to luck but also to the incredible efforts of the staff in employing safe infection
control practices both here in the Community and at home.
We are looking forward to an eventful month bringing community together in a safe
manner. This month we will start to open a few more socially distanced, recreational
offerings for the Retirement Community including chair yoga classes, bingo and coffee
socials – all socially distanced, of course!
We are going to have LaCosta Food Truck visit on the 17th for all of our Residents and
Staff in lieu of our annual Fall Festival. We are excited about having Lobster Rolls and
other tasty treats delivered to our door.
I am pleased to announce that we have hired Paul Bohn as our new Business Office
Coordinator. Paul will be assisting Carolyn with billing and collections in the business
office. Paul has been working for a company in Massachusetts for the last few years
and we are eager to have him inducted into our Rhode Island way of life! We have also
hired Kaitlin Ferreira as our new Human Resources Director. Kaitlin has many years
of experience over seeing workforce processes including recruitment and retention at
another lovely community here in Rhode Island.
In addition to our new staff, we are also thrilled to announce that we are partnering
with Salve Regina University's Internship Program. Rebecca Shaub, a Senior in the
Healthcare Administration program, will be joining us several days a week this year as
she pursues a career in long term care. Please stop in or call and say hello to all when
you get a chance!
I am so appreciative of the wonderful people here at The John Clarke Retirement
center and their ability to support one another during such a stressful time in our
lives. Chaplain Ray has been helping us all keep our spirits uplifted. She has offered
to provide support to anyone in need of an empathetic ear. Please reach out to her if
needed.
Warm Regards,
Joan
so amazed by how restaurants have turned parking spaces into outdoor
eating area, how schools have worked all summer to create safe re-entry
plans for students, how families have adapted to visiting virtually, and
how churches have moved to on-line programming. Some of our oldest
institutions are necessarily finding new ways of being. At John Clarke,
we have been so blessed by the innovation of our staff, our residents
and our family members!
Residents are learning how to attend Church via Zoom, Youtube, and in
person in a different way. Our Sundays begin with a ten o'clock Zoom
service with Warwick Central Baptist. Several Nursing Residents join me
in the dining room to watch church and join my terrible singing. I offer
an iPad to residents whose church Service is prerecorded on Youtube
with First Baptist and others. At three o'clock, independent residents
join myself and Rev. Dr. Cynthia Smothers in the Chapel where we Zoom
a short but sincere service to the dining room where nursing residents
gather to watch. We share Communion during this service using sterile
single-use Communion cups while following strictest precautions of
sanitization, masks, and social distance. This service will continue
in September but will move to four o'clock on Sunday afternoons in
keeping with John Clarke tradition.
Our families have been amazing and so supportive of our efforts to
keep residents safe. They have adapted to visitations through partition,
temperature screening, and following State of Rhode Island guidelines
without fault or complaint. It is very difficult to visit with loved ones
without hugs! And yet, all of our folks have complied and kept our
residents and staff safe.
All of this work takes the dedication and innovation of an amazing
and dauntless staff. Inter-departmental support is a culture at John
Clarke; Nursing, Activities, Spiritual Care, Dietary, Social Services, and
Administration all have found new ways of collaborating and making
sure our residents are both active and safe.
I see innovation and new creative ways of being, thinking and doing
'old' things as a gift from God. After all, God is the original creator and
has endued us with the gifts of co-creation and creativity. When we find
new ideas, innovative solutions and creative answers especially when
working collaboratively and for the service of others we are doing God's
work. We are the hands, feet, mouths, eyes, and ears on earth serving
our neighbors. May God continue to gift us with new ideas!
Roasted Glazed Salmon
Ingredients
2 center-cut 8oz salmon filets
1/4 stick unsalted butter
1/2 cup brown sugar
1/4 cup soy sauce
1/4 cup maple syrup
" Salmon is one of the most versatile fish and can be cooked in many
different ways, this simple way is not only my favorite but my kid's too!"
Heat oven to 400 degrees
Pat dry the salmon; put it in an 8×8 glass pyrex or similar and let sit out during
the next step
The glaze: In a sauté pan on medium heat, melt the butter then whisk in the
brown sugar, soy sauce, and maple syrup until everything is incorporated, and let simmer on low for 10 minutes
Pour half of the glaze over the salmon and cook for 10 minutes, then add the other half of the glaze and cook for 5 minutes – use
a soup soon to spoon any excess glaze on to the salmon, and cool until desired doneness is attained
For a crispy outside, broil for 3 minutes making sure to keep a careful eye on it (the sugar in the glaze will burn quickly!)
Serve with white rice and fresh green beans – Enjoy!
August Newsletter 2020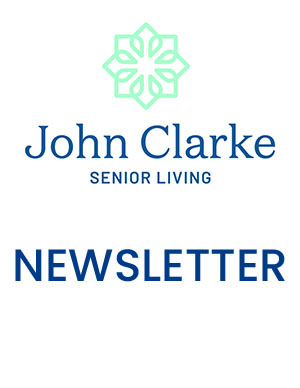 Dear John Clarke Community,
Greetings on this warm, summer day as we continue our strange odyssey living
with COVID-19. I am relieved to report that, as of this writing, our Nursing Center
remains COVID free.
We have been delighted to be able to start welcoming visitors back to the Nursing
Center to meet with their friends and loved ones. The reunions have brought some
of us to tears to witness. For those who are unable to come to the center personally,
we encourage you to reach out to our Recreation Department to schedule a video
call.
We are very appreciative of the kind donations that friends and families have made
to the Community over the last few months. Our staff and residents appreciate the
gifts of lunches, breakfast pastries and other goodies that have been delivered as
well as the wonderful charitable gifts that have been made. We have used some of
the donation money to purchase extra iPads for Nursing Center residents to "visit"
their loved ones with. THANK YOU!
I am deeply grateful to all our staff for their dedication to the residents of our
Community. They have made many personal sacrifices to ensure that they remain
safe and practice infection control recommendations to stay healthy. Each staff
member has been coming in weekly for COVID swab testing – an unpleasant,
sometimes painful, process.
I am very much looking forward to the day when we can open our doors up without
hesitation and invite the world back in.
Warm Regards, Joan
Moral Distress is a term used to describe the spiritual, emotional,
psychological, and physiological trauma incurred when we experience
morally difficult situations. Military personnel are familiar with this
condition as it sometimes referred to as Military Trauma. It results from
the disparity caused when we are unable to do, through circumstances
out of our control, what morally we feel we ought to do. Many of us are
experiencing moral distress as the current pandemic continues. In an
article from Provider magazine, Amy Stewart, MSN, RN, SNS-MT writes,
"Nursing staff are especially susceptible to moral distress. Not only are
they on the frontline of the response, but the impossible choices that
the constraints they are experiencing impose undermine the core values
of a caring profession." (Amy Stewart, 2020)
Nursing staff is not alone in this trauma. We are all experiencing some
form of distress over the past four months. Our lives are disrupted. Many
of us have lost jobs and income. Our roles have changed from working in
an office to working from home – and teaching school aged kids. Many
of us have lost loved ones. And many of us are worried about loved ones
with underlying health issues. And what we feel is morally right is not
always safe or possible with the current Covid restrictions. Our fears and
anxieties are mixed with disappointments and depressions. It is a tough
time.
Recently, I have seen an increase in social hostility. Folks that are usually
cheerful and pleasant can be cranky. Folks have expressed a sense of
hopelessness or just exasperation over the wondering of when this
will end. I am concerned about mental and spiritual wellness. Do you
remember the old analogy about putting pressure on a balloon? When
the balloon experiences too much pressure, it blows out somewhere. We
cannot predict where. Some days we are like the balloons.
Where can we find hope? How is resiliency possible right now? How can
we manage the pressure of moral distress, hopelessness, anxiety, and all
that each of us holds? How can we keep from exploding like pressurized
balloons? We can help and support each other. We can be kind. We can
remember for what we are grateful. We can self-care as well as care for
our neighbors. We can remember that we are Beloved children of God. And remember that this too shall pass.
Roasted Corn and Black Bean Salsa
Ingredients
4 ears corn (native sweet corn from
DeCastros)
1 red onion
2 ripe avocados
1 can black beans
1 lime
1 lemon
1-2 tbsp packed chopped cilantro
4 pinches salt
4 pinches pepper
2 pinches red pepper flake
1 tsp olive oil
Turn grill on high or broiler on low
Shuck corn and rub with olive oil – add 2 pinches of both salt and pepper
Keep a close eye on your corn to avoid completely blackening it
Tun grill down to low, or turn broiler off and cook for 10 minutes or until corn
is tender.
While corn is cooling, dice red onion, chop cilantro, rinse black beans and
juice your lemon and lime.
In a large bowl cut the corn from the cob and add onion, cilantro, black beans,
1 pinch of salt & pepper, red pepper flakes and all the lemon and lime juice.
Cube the avocado and fold into the bowl being careful not to mash it and add
the remaining salt and pepper.
Let marinate in the fridge for an hour then grab some Tostitos scoops and get scooping!!
July 2020 Newsletter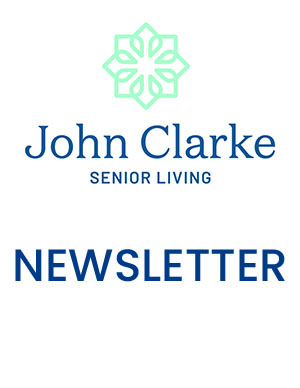 The warm breezes of summer are beginning to be felt around our lovely community
these days and I am grateful for the bit of joy they bring.
We are eagerly awaiting the day that we can welcome visitors back into the nursing
center community. The Rhode Island Department of Health is requiring that all
nursing facilities develop a Limited Visitation Plan that must be submitted and
approved. Once these plans are submitted and approved, we are hopeful that the
Governor will announce when visits may begin. Until that time occurs, I hope that
you are able to take advantage of Zoom or FaceTime visits. Please let us know if
you need any assistance with a "virtual visit".
Please know that I will make multiple announcements regarding visitation just as
soon as we get the go-ahead. You will get a text or email through our Voice Friend
notification system, an email directly from me (if we have an email address on file)
and a hard copy in the mail. I will outline the process and regulations for visitation.
Our Retirement Center is looking lovely with the colorful Adirondack chairs
festooning the front lawn and I am glad to see many residents out enjoying the
fresh air.
Warm Regards,
Joan
I'm so sorry. That is what we often say when we acknowledge the pain
and suffering of others, especially when there is nothing more that we
can say to bring comfort. I'm sorry. I'm sorry you are experiencing such
a difficult time. In these trying weeks of 2020, I find myself saying "I'm
sorry" often. We are all experiencing pain and suffering. We are in the
middle of a traumatic cultural event that will forever change our lives. And,
I'm sorry. We're at the point were our children, grandchildren and greatgrandchildren
cannot avoid being effected by the news and our adult
conversations about current events. My own children are upset about
covid and about communities in protest. Their lives are forever changed.
And, I'm sorry. As our fellow citizens protest in our cities, marginalized
populations are further exposed to the virus, are at greater risk of
contracting the illness, and not receiving equitable healthcare. And, I'm
sorry. As communities try to reopen and previously [not quite] flattened
curves begin to spike hospital staff are once again overrun, over worked,
under supplied and understaffed. And I'm sorry. Nursing Home residents
have been in isolation since March while missing worried loved ones and
we cannot risk the health of our residents. And, I'm so sorry. Parents
of young children are finishing the school year wondering if distance
learning was adequate for their kids and did they learn anything. And,
I'm sorry. Seniors from High Schools and Colleges – our children, grands
and greats graduated without spectators and celebrations, without
gatherings and gifts, without feasts and festivities. And, I'm sorry. I truly
am so sorry that we are experiencing such a difficult time, and someone
just ought to tell you, "I'm sorry".
A Chaplain's role is to meet others in the difficult time and help them find
a way through it. I'm here for you. I'm here to help; to listen; to talk; to
pray. My daily goal is to make a difference. The weekend Activities team
has a daily goal of making a difference. Each evening as we finish our
paperwork, after passing out the final refreshments and tidying up all
the materials we have used throughout the day, we ask ourselves, "Did
we make a difference?" We share stories of someone's smile, a laugh,
the joy of a family member on a video call, the peace of a resident, the
motivation of our medical staff, the dedication of our food services staff,
and the creative energy of our Activities staff. I'm sorry that we are
experiencing such difficult weeks. But, know that myself and our entire
staff are working to make a difference every day; to find a way through
the difficult. Together, as a community, we are working our way through
a challenging reality, making a difference every day!
Scott's Stuffies
Ingredients
12 large quahogs
3 cans (12-16oz) chopped ocean clams
2 packages ground chourico
1 package bacon
2 sticks unsalted butter
2 cans (12-16oz) chicken stock/broth
Large box ritz crackers
12-16oz container bread crumbs
2 large green peppers
2 large red peppers
2 medium yellow onions
1 bunch celery
Salt & pepper
Red pepper flakes
Garlic powder
Directions:
Clean quahogs well with cold water and small scrub brush.
Add 12 Quahogs to large stock pot, cover with water, add tsp salt, pepper and
red pepper flakes, ½ tsp garlic powder. Boil until quahogs open, remove quahogs
immediately to cool. Save 3 strained cups quahog stock/broth. Remove
meat from Quahog, and chop fine. Avoid chewy meat connected to the shell.
Break Quahogs in half and clean well. Using a food processor, grind ritz to a
fine dust and combine with bread crumbs. Dice green peppers, red peppers,
celery, onions, and half the of bacon. Cube other half package of bacon for the
top of the stuffies.
In large sauté pan render diced bacon on med high until fully cooked. Eat some
bacon as a gift to yourself for doing such a good job so far. Reserve bacon
grease, add half stick of butter and all veggies, pinch of salt & pepper, pinch
garlic, pinch red pepper flake. Cook until tender. Add chourico, cook until heated.
Add 1 can of chicken stock, 1 can chopped clams and 2 drained cans of
clams to the mix. Add ½ stick butter, quahog meat and 1 cup of quahog stock.
Simmer for 15-20 minutes.
Turn off heat, add breadcrumb mix and stir until fully incorporated. Add remaining
chicken stock and quahog stock as needed until similar to moist stuffing
in texture. Cool the mix in the fridge for 30-40 mins.
Stuff those Quahogs, a large ice cream scoop works well. Top with
bacon. Heat oven to 400, cook for 10-15 minutes until bacon is crispy
June 2020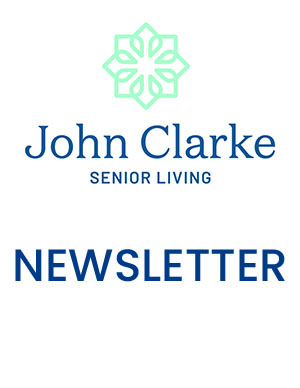 Dear John Clarke Community,
I want to start by saying Thank You all for your amazing support during this
unprecedented time. The residents of the nursing center were thrilled by response to
the Mother's Day Parade. We had so many families and friends come by to wave hello.
The Rhode Island Department of Health has asked us to test all residents and staff
every 10-14 days. Our third round of testing will be next Tuesday, and the National
Guard will be here to help administer the tests. I will send out a communication
via VoiceFriend when we have the times scheduled. We were very grateful for the
National Guard's assistance during the last round and are happy that they will be on
site again next week. We have the fourth round of testing tentatively scheduled for
June 9th.
We continue to follow the Department of Health's and CDC's recommended measures to protect your loved ones,
our staff and community by:
• Restricting visitors with exceptions only to immediate end of life care, physicians and diagnostic clinicians.
• Screening all staff for signs and symptoms of COVID twice per day
• Screening residents twice a day including temperature and respiratory assessment by licensed staff.
• Quarantining new admissions for 14 days in our designated quarantine area.
• Disinfecting the center including high-touch areas such as doorknobs, bedside tables, light switches, handrails, sinks and
bathrooms frequently day and night.
• Ensuring adequate supplies of Personal Protective Equipment (PPE) -gloves, masks, face shields, and gowns.
• Monitoring for new guidance from state and federal officials
• Practicing social distancing and using proper hand hygiene.
• I will send out any immediate updates regarding COVID-19 via VoiceFriend.
On a more joyful note, I am very pleased to announce that Tara Kuthan, NHA, Director of Social Services, has been promoted to
Assistant Administrator. In her new capacity, she will continue to over see the psychosocial needs of our community and she
will also assume responsibility for the recreation department and chaplain services. Please join me in congratulating Tara on
her well deserved promotion! I wish you all a peaceful and healthy late Spring!
Warm Regards,
Joan M. Woods9
Last month I wrote to you about the Dawn Redwood tree at Blithewold
Mansion in Bristol. The tree is now covered with verdant chartreuse
sprouting leaf tips. The tree is smiling with new life; new beginnings in
this new cycle of seasons.
As spring draws on, finally, we too are in a new season. Everything
seems to have changed. Even they way we worship, gather in
community, and observe rituals has changed. For some, even our faith
has been shaken to its core. It has been a long, difficult winter. My
role as a chaplain is to meet others in the middle of the difficult times
– those times when our faith is shaken to its core. Chaplains are able
to meet and honor the sacredness of the 'winter seasons' and help
find verdant paths to spring. We are pastors of options. We walk with
others until they find the way to a new beginning.
As our communities begin to re-open we do so knowing that things
have changed. We have experienced great loss and grief. We have
found inner strength and perseverance that we may not have known
we possessed. We have found new ways to be physically distant and
yet socially close with our loved ones and neighbors. Like the verdant
Redwood, we are emerging anew with a resilience of life.
Brunch Frittatta
Ingredients
1 lb fresh asparagus (in 1 inch pieces)
1 lb breakfast sausage (cooked & chopped)
1 medium sweet red pepper (diced)
1 medium sweet yellow pepper (diced)
1 small onion (chopped)
3 green onions (chopped)
1tbsp olive oil
2 tbsp unsalted butter
2 garlic gloves (minced)
3 plum tomatoes (seeded & chopped)
14 large eggs (lightly beaten)
2 cups half & half cream
2 cups shredded colby-jack cheese
1/2 cup shredded parmesan cheese
3 tbsp fresh parsley (minced)
3 tbsp fresh basil (minced)
Salt & pepper
Prep Time: 15 minutes Cook Time: 50 minutes Serves: 12
Preheat Oven to 35O degrees
In a large skillet, saute asparagus, peppers and onions in oil and butter
until tender. Add garlic; cook 1 minute longer. Add tomatoes; set aside.
In a large bowl, whisk eggs, cream, colby-jack cheese, parsley, basil, salt
& pepper; stir into vegetable mixture and add sausage.
Pour into a greased 13×9 baking dish. Bake uncovered for 45 minutes.
Sprinkle with Parmesan cheese. Bake 5 minutes longer or until a knife
inserted into the center comes out clean. Let stand 10 minutes before
cutting.

May 2020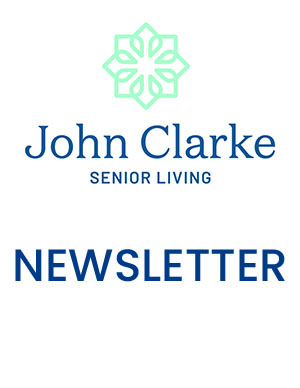 Dear John Clarke Community,
What an unprecedented time we are living in! While we continue to support the health of
our community by limiting personal contact, we are doing our utmost to spread joy through
engaging activities and meaningful connections with family and friends.
I am pleased to announce that our new chaplain, Racquel Ray, M Div, started this week and
has already introduced herself to many of you. I look forward to the spiritual support that
she will provide our community.
We have been blessed with many kind and wonderful donations from families and friends
including meals, baked goods, gift cards for the staff. We are grateful for all the continued
support.
I look forward to meeting you all in person sometime in (fingers crossed!) the near future.
Warm Regards,
Joan M. Woods

Chaplain's Corner
The John Clarke Retirement Center would like to welcome Raquel Ray, our new
chaplain to the team. She wrote this message of hope to the residents, tenants and
families.
Each morning that I drive to the John Clark Retirement Center I pass the Blithewold
mansion in Bristol with its towering, ancient Dawn Redwood tree. This particular
tree at Blithewold is fairly young, only planted in 1971. But the Metasequoia
glyptostroboides cultivar is a deciduous conifer tree that saw the dinosaurs. Right now,
the tree looks dead. Its branches are bare, naked, brown, and pendulously sweeping
in downward frowned arches swaying in tumultuous New England spring winds. An
unexperienced person would cut down believing it to be hopeless.
Our current society looks bleak also, mirroring the frowning branches of the redwood.
We are swaying with the winds of difficult news, messages of endless struggles and
challenges ahead. We worry about loved ones, finances, health, safety, and our future.
Each day the dawn redwood slowly begins to sprout as it has done since the dinosaur
age. The tree knows the biological secret to its longevity is a deliberate pace. It takes
its time. I see hope in its daily increase, albeit ever so slowly. There is daily progress.
From dormancy to vibrancy the tree will lead us.
By Racquel
Tiramisu
Directions:
Ingredients
6 egg yolks
3/4 cup white sugar
2/3 cup milk
1 1/4 cups heavy cream
1/2 teaspoon vanilla extract
16oz marscapone cheese
1/4 cup room temp strong coffee
2 tbsp Kahlua
(2) 3oz packages ladyfinger cookies
1 tbsp unsweetened cocoa powder
Prep Time: 45 minutes Cook Time: 1 minute Ready In: 5-7 hours Serves: 12
In a medium sauce pan whisk together egg yolks and sugar until well blended. Whisk in
milk and cook over medium heat, stirring constantly, until mixture boils. Boil gently for 1
minute, remove from heat and allow to cool slightly. Cover tightly and chill in refrigerator
1 hour.
In medium bowl beat cream with vanilla until stiff peaks form. Whisk marscapone into
yolk mixture until smooth.
In a small bowl combine coffee and rum. Split ladyfingers in half lengthwise and drizzle
with coffee mixture.
Arrange half of soaked ladyfingers at the bottom of a 9×13 dish – cut to fit. Spread half
of mascarpone mixture over ladyfingers, then half of the whipped cream over that.
Repeat layers and sprinkle with cocoa. Refrigerate 4 to 6 hours until set.
March 2020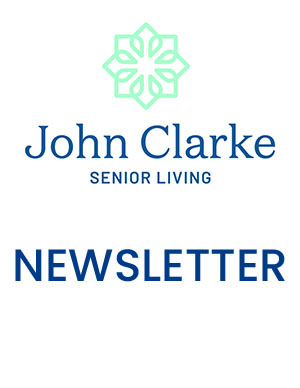 Hello everyone and welcome to your March Newsletter. We have been so fortunate this winter and I hesitate to celebrate our wonderfully mild winter with March being historically a difficult and potentially snowy month. The good news is we start Spring this month as the days get longer and longer. Let's all hope we can continue our streak of good luck.
I wanted you all to know my time as Interim Administrator is coming to an end. The Board of Directors of The John Clarke Retirement Center has had the good fortune to hire a wonderfully talented and experienced leader and Administrator. Ms. Joan Woods has accepted the position of CEO/Administrator and will begin her tenure on April 6, 2020. Joan has been an Administrator and Executive in Health Care for well over 20 years and has had tremendous success in her career. Joan is a leader in the Health Care community and is nationally recognized as an expert in Quality. She serves on the Board of Directors of the Rhode Island Health Care Association and on several national
committees on Quality at the American Health Care Association. I know you will join me in welcoming Joan in the same warm fashion you welcomed me when I began my interim assignment here.
I want you to be aware we are upgrading our phone system with Cox Communications on March 5th. We will be transitioning from old to new system from 10am to noon and during part or most of this time our regular phone lines will be down. During this period if you need to contact us please call our Admission phone line at 401-602-2185. This upgrade will afford us greater capability and reliability of service. Thank you for your anticipated patience during these 2 hours.
I would draw your attention to our Activity calendar to see the wonderful activities that Robin and her staff have planned for you this month. We have some extra special St. Patrick's Day fun planned for you and of course how can we forget Zeppole's on St. Josephs' day.
I want to recognize our Whatever it Takes Award winner for February, Dionne Williams-Rossi, RN. Dionne is a Nurse Manager on our 11-7am shift, and she has been an incredible asset to John Clarke in so many ways. Her dedication to our residents and to her nursing duties is exceptional and we are so thankful we have her part of our family. Thank you, Dionne, for all you do.
I wish you the best month ever this month enjoy each day to the fullest.
Best Wishes, Hugh
I've always kind of felt sorry for March.
January is "Woohoo! New Year!" February is proof that a new year really has arrived. April has those tantalizing hints of Spring. And May—well, May is just gorgeous. June,
of course, is splendid in its own right.
July is for barbeques! And all things outside. August? August is the first moment in each year when we give thanks. For those wonderful people who brought us air conditioning.
September feels like it's actually the start of the year. There are new programs for everything under the sun, and learners everywhere are delighted by, or in dread of, a new season of classes. (And, speaking of seasons, Football!)
October. You just want to spread your arms and wrap all that glorious color around you and take it home with you. November kicks off The Holidays. And December? December takes care of itself. There's no other month like it.
Then, there's March. The year is well under way, fresh blooms are a ways off and all we can really do is hope Punxsutawney Phil was right (this year). Not taking anything away from St. Patrick or St. Joseph but, on the whole, March just seems like a fourand-a-half week waiting game. An in-betweener.
Which means . . . You can make it whatever you want.
Corned Beef & Cabbage
3lbs corned beef w. spice packet
2 bay leaves
4 sprigs thyme
1/2 lb baby potatoes, quartered
4 medium carrots, quartered
1 small head cabbage, in wedges
Directions
Prep Time: 10 minutes Cook Time: 3hrs 35 mins Ready In: 3hrs 45 mins Serves: 6
Place brisket in a large Dutch oven and cover with water
Add spice packet, bay leaves and thyme and place on medium-high heat
Bring to a boil then reduce to a simmer
Cook until tender checking every 30 mins and adding water if needed, until beef is tender, about 3 hours
Add potatoes and carrots and bring back up to a boil
Cook for 15 minutes then add cabbage and boil for 5 minutes more
Remove meat and drain vegetables
Let meat rest for 10 minutes before slicing
February 2020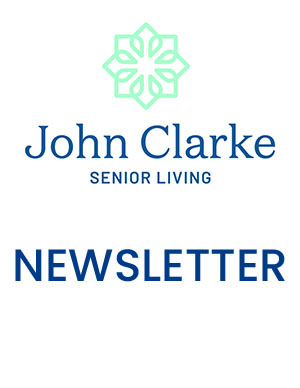 Hello everyone, welcome to your February newsletter and happy LEAP year. It is very exciting to have an extra day even if its only once every four years. If you are one of the lucky people who were born on February 29th let me know.  he first 2 people who contact me will get a prize.
I was hoping we would escape the cold weather this winter after the weekend it was in the 60's and even hit 70 in some places but unfortunately it's New England and we have to endure some cold and wind. Just think as you read this newsletter, we are getting closer to Spring every day.
As you know we had our share of sickness in January and as I write you, we are coming out to the well side now. This is a difficult time of year as many people experience various bugs and viruses and invariably will bring them into facilities as staff or visitors. Our staff must be commended for their excellent infection control practices in managing the spread of anything we are confronted with and I thank them very much. They have done a difficult job exceptionally well.
February gives us great opportunity to celebrate our Love's in our lives. So, let me be the first to wish you all a Happy Valentine's Day. We have lots happening in our facility as you will see in the Activity Calendar and I hope you will take full advantage of our events.
Just another reminder we are celebrating our 40th anniversary at this location which opened in 1980. John Clarke started in 1953 on Shepard Ave in Newport led by Mr. and Mrs. Harold Brown and was home to 24 independent residents. As those residents aged and required more care there was the decision to expand capacity and include nursing care as well. This property at 600 Valley Rd was purchased and constructed and opened in 1980. We have much to be thankful for and proud of over these 40 years. The past staff and current staff have developed a high-quality Nursing and Retirement Center that is very highly regarded on Aquidneck Island and in the Baptist community in Rhode Island.
The Board of Directors and the leadership of this center want to continue to provide this high-quality care and have decided to initiate a Capital Campaign to raise 2 million dollars over the next 2 years to
renovate our campus. We hope you will join us as we begin this effort.
I would like to recognize our January Whatever it takes Award winner. Ms. Carollyne Killackey one of our Nurses has been selected by her peers for her caring, for her compassion and for her helping approach to her responsibilities every day. Thank you, Carollyne.
I hope to see you around our campus enjoy the month.
Best Wishes, Hugh
When I was learning to drive, my father told me always to remember that I had as much right to be on the road as anybody else.
That was excellent advice. When you're first starting out at something, there's a tendency to feel like you're not worthy. To hear that you are is very helpful, indeed.
There really was a St. Valentine, and he made it his work to let all around him know they were worthy as well. Living in the third century near Rome, he tended to the persecuted and to those on the margins.
He showed love to these people. He was martyred on the 14th of February.
How this sort of love got connected with the romantic kind remains unclear. It seems to involve reinterpretations of an old Roman fertility festival at about the same time on the calendar along with a 13th century poem by Geoffrey Chaucer.
Whatever your take on it, the middle of winter is a good time to be reminded that we are worthy. We are all worthy of respect, of care, and of love.
We seek to show that respect, love and care at John Clarke. In each new day, we look to see what others need, and what might make their lives a little fuller. Because all are worthy.
And remember, that includes you.
'Getcha Right Chicken Stew
Ingredients
Stock:
1 gallon water
1 roasted chicken (meat aside)
1/2 bag chopped carrots
3 med chopped onions
1 bag chopped celery
2 large bay leaves
1 tbsp salt
3 tsp pepper
Stew:
2 tbsp chicken fat/preferred fat
1/2 bag chopped carrots
1 bag chopped celery
2 med chopped onions
3 quarts chicken stock
1 can rinsed/drained green beans
2 lbs small red or yellow potatoes
2 tbsp flour
1 tbsp poultry seasoning
3 cups chicken meat
Salt & pepper to taste
Directions:
Tis the season for cold & flu. The following is a delicious recipe to 'Getcha Right'!
Stock:
Add all the ingredients to a large stock pot or dutch oven
Simmer at a small rolling boil for 3 hours
Cook potatoes approximately 45 minutes/until fork tender and let cool for 10 minutes.
Using a fine sifter or cheese cloth, separate the stock
Let the stock chill in the refrigerator until the fat separates
Set aside 2 tbsp of fat for the stew and discard the rest
Stew:
In a dutch oven of your preferred size ( I use an 8QT) saute on high heat
the chicken fat, celery, carrots, onions and poultry seasoning until slightly tender
Sprinkle flour over the vegetables and stir until incorporated
Add the stock and potatoes and simmer for 45 mins
Add chicken meat and green beans
Continue to simmer until potatoes are tender and the stew thickens to a
hearty pot of deliciousness
Serve with french bread and a glass of red wine to 'getcha right' in the head
-Chef Scott
January 2020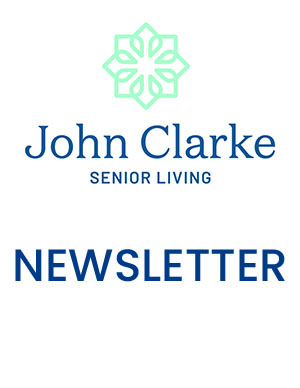 Hello everyone, welcome to our first edition newsletter for 2020.  A new decade is upon us and I wish you all a very Happy New Year and Happy New Decade!
We had a wonderful Christmas and holiday season here at John Clarke.  We were fortunate to have Santa spend some extra time with us and made everyone's holiday extra special.  Special thanks to Robin and her staff for making this holiday so special.  Thanks to all our staff for being in the Holiday moment and adding to our joy.
The New Year brings great hope and expectation of great things happening for us not only here at John Clarke but in the world as well.  We have a busy year planned for our family here at John Clarke as we begin our yearlong celebration of our 40th anniversary here at 600 Valley Road. We will let you know our plans during this year to fully celebrate this milestone.
To coincide with this special anniversary, we are embarking on a two-year Capital Campaign.  Our goal is to raise two million dollars to do renovations on both sides of our complex and to do systems upgrades. We have started with a Capital needs assessment and we are developing a campaign committee to help us achieve our goal. If you would like to help us, please let me know and will include you in the planning and implementation process.
I would like to recognize our December Whatever it takes award winner, Gentle Guinguing. Gentle is a C.N.A. and a Med Tech. He is always demonstrating the very best qualities in his care of our residents. Thank you Gentle and congratulations.
In closing I want to thank you for your support of our Mission here at John Clarke and wish you the happiest New Year. I look forward to seeing you around our home.
Best Wishes,
Hugh Hall
We human beings are still trying to figure out how to get along with each other. How much time do we want to spend together? How much time alone is good for us?
Should we hang out with the same people all the time? Or is it better to spread ourselves around a bit? And . . . how do we best approach people we don't understand very well? Individuals with different lifestyles. Groups
we've never been part of.
The Rev. Dr. Martin Luther King, Jr., born January 15th, had a few suggestions. We'll celebrate his birthday on January 20th this year.
Did you know that Dr. King's given birth name was actually Michael? Same as his father, who was also a minister. The elder King visited Germany for the meetings of the Baptist World Alliance (yes, he was Baptist) in 1934. The
BWA adopted a resolution condemning rising anti-Semitism. And Rev. King, so impressed by Martin Luther's protests against oppressive systems in his time, changed his name, and that of his son, to Martin Luther King.
You know, human beings are so different from one another. Chances are we will always feel more comfortable with those we know well, and with the familiar.
But no one should be denied a life full of opportunity just because they are different. That is just wrong.
This month gives us a great chance to learn more about Dr. King. And to realize that the work of doing away with oppressive systems is not finished.
Loaded Twice Baked Potato
Ingredients
6 large russet potatoes
1 tbsp vegetable oil
1/2 lb cooked & chopped
maple bacon
1/2 cup sour cream
1/2 stick of butter
1/2 cup sharp cheddar
1/2 cup heavy cream
1 teaspoon chopped chives
1 teaspoon salt
1 teaspoon pepper
Directions:
Prep Time: 15 minutes Cook Time: 1 hour Ready In: 1 hour & 15 minutes Serves: 12
Pre-heat the oven to 400 degrees F.
Clean potatoes well. Dry and toss in oil.
Cook potatoes approximately 45 minutes/until fork tender and let cool for 10 minutes.
Cut cooked potatoes in half the long way, remove cooked insides and reserve in a mixing bowl.
Place empty potato skins on a cookie sheet.
Add sour scream, bacon, butter, cheddar, heavy cream, chives, salt and pepper to the mixing bowl with the cooked potatoes. Mix to combine, but be careful not to over-mix.
Stuff potato skins with mixture and bake for 15 minutes.
Cut into quarters and serve as an appetizer or serve a full half as a side.
HAPPY NEW YEAR!
-Chef Scott
December 2019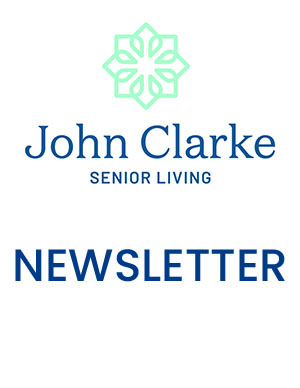 Hello everyone. Welcome to your December newsletter and Happy Holidays to each of you.
It always amazes me how time never slows. We sometimes measure our timeframes in seasons or holidays but no matter how you measure time it flies by and what just seemed like the warmth of summer is now the edge of winter. As I write you we are anticipating Thanksgiving and the excitement of spending time with those we love and probably eating a little too much of everything. Robin, her staff and many others are working hard to be ready for our Holiday Bazaar on Saturday December 7th. It looks to be a great event with many wonderful crafts, food and fun. I hope to see you all there.
Our staff and leadership have been working behind the scenes to develop a plan for the next year and the result of this work has developed three major focuses. Performance Excellence, Business Development and Workforce Focus. During the next year smaller committees will work on specific goals to improve everything we do at John Clarke. I will be speaking to all of you more about this in the weeks to come.
Our more immediate plans are to have a fun filled December with many wonderful activities and events to celebrate the season and our religious celebrations of Christmas and Hanukkah. Please take a look at the enclosed calendar for specific days and times of activities and most importantly when Santa will be visiting John Clarke.
I would like to recognize our Whatever it Takes winner for November Pam Maxson. Pam works in Activities and is such an important part of John Clarke. Her contributions to resident life is enormous. Thanks Pam for all you do.
In closing I hope you enjoy all that is happening here at John Clarke during the month and I wish each of you the very best of the holiday season. Merry Christmas and Happy Hanukkah.
Best wishes, Hugh Hall
And so it begins…the cultural convulsion that is December.
So many things happening!
I want to highlight two events for you: (1) The Christmas Tree Lighting, December 4th at 2pm, along with our Christmas Chorus, and lots of singing and Snacks; (2) our Christmas Eve Service, December 24th at 10pm. I invite everyone in the Christian tradition to be part of these.
More broadly, we are entering the darkest month of the year (!). The days just keep getting shorter. There is the Solstice, of course, on December 21st, after which the days start to get just a l-i-i-i-i-ttle bit longer again. But not fast enough. No wonder people use as many lights as they can stand in Christmas displays. Or that one of the oldest carols is titled "In The Bleak Midwinter."
The hope Christmas offers is that the darkness will not take over. Somehow, sometime, light will come back. Whatever your tradition, that's not an unwelcome idea.
I hope the holidays are enjoyable and meaningful for you this year.
Pumpkin Bread
Ingredients
1 cup canned pumpkin puree
1/2 cup vegetable oil
1 & 1/3 cups white sugar
2 eggs
1 & 1/2 cups + 1 tbsp
all-purpose flour
1/2 teaspoon baking powder
1/2 teaspoon baking soda
1/2 teaspoon salt
1/2 teaspoon ground cinnamon
1/2 teaspoon ground nutmeg
1/2 teaspoon ground cloves
Directions
Prep Time: 15 minutes Cook Time: 1 hour Ready In: 1 hour & 15 minutes Serves: 24
Pre-heat the oven to 350 degrees F (175 degrees C).
Grease and flour three 9"x5" loaf pans.
In a large bowl, mix together the pumpkin, oil, sugar and eggs. Combine the flour,
baking powder, baking soda, salt, cinnamon, nutmeg and cloves; stir into the pumpkin
mixture until well blended. Divide the batter evenly between the prepared pans.
Bake in pre-heated oven for 45 minutes to 1 hour.
The top of the loaf should spring back when lightly pressed.
Happy Thanksgiving!
-Chef Scott
November 2019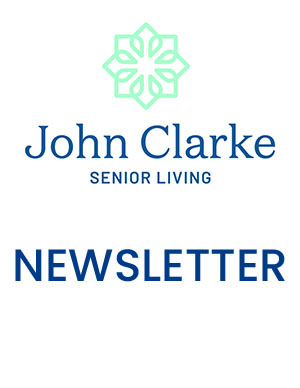 The John Clarke Retirement Center is pleased to announce that we are preparing for our 2019 annual Christmas Bazaar. The Bazaar will be held on Saturday, December 7th from 10am to 2pm and will consist of outstanding raffles, a baked goods sale, talented vendors, crafts and a table for "gently used" and new items. Our executive chef Scott Hahn along with his talented team will be preparing delicious lunch items that may be purchased in the small dining room.
The purpose of The John Clarke Retirement Center Christmas Bazaar is to provide the residents with an opportunity to shop for gifts for their friends and family. It also helps our non-profit organization to raise money for the Resident Activity Fund which is used for trips to Frosty Freeze, dine-ins from local restaurants and "themed" events such as our end of summer cookout and other great parties.
Please join in and help us kick off the holiday season. Are you crafty? Do you knit? Perhaps you have "gently used" or new items you would like to donate. Monetary donations, gift certificates, and baked goods are always welcome and appreciated as well.
Please call or visit Robin Hannon in the Activities Department for more details. (401)846-0743 @ ext. 111.
Thank you in advance and we look forward to seeing you at the Bazaar!!!!!
November is an important month on our calendar.
We say "Thank you for your service" to all our veterans at our Veterans Recognition, Friday, November 8, at 2:00 pm. (Keep an eye out for the display of Veterans memorabilia in the welcoming triangle by the office, and says "Thanks!" to Phil Amaral for organizing it.)
And, of course, there is Thanksgiving! Harvest Festivals are celebrated in the tenth and eleventh months of the year in countries around the world. We all know the stories of the kindness of Native Americans to the Pilgrims, traced to 1621. Now, Virginians like to look back to a service of Thanksgiving for safe arrival conducted by English settlers in 1619.
However . . . some historians claim the first Service of Thanksgiving in the Americas was held by an Anglican clergyman after the adventurers who followed Martin Frobisher to the High Arctic, whose ships were separated by ice, were reunited in 1578. And Quebecers point to the festivities overseen by Samuel de Champlain in 1604.
Whichever story you like best, join us for our Thanksgiving Service, Wednesday, November 27, at 10:00 am.
Evan's Holiday Mac and Cheese
BY: Denise Sullivan
Cheeses:
1 or 2 blocks of very sharp cheddar
1 or 2 blocks medium sharp cheddar use; New York state, Wisconsin or coon brand for cheese
Mixture:
1 teasp any mustard 1 teasp Worcestershire shake of oregano dash of Tabasco dash of cayenne pepper salt and pepper. Mixture should be repeated to coat macaroni and cheese
Partly cook macaroni (half time)
In a large bowl mix together macaroni, grated cheeses, and mixture when the macaroni and cheese are well coated.
Put in a casserole dishes and top with more Parmesan or Romano cheese.
Dot with butter then fill dishes half way with milk and place in a 325 degree oven for 1 ½ hour or until the top is brown and crusty!
ENJOY!
October 2019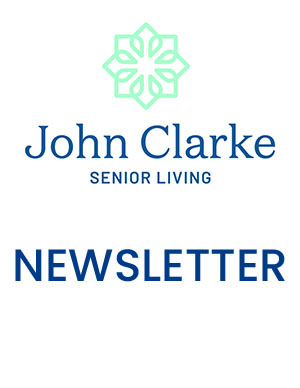 Hello everyone. Welcome to a new edition of the JCRC Today!
It is such a wonderful time of year. We are in the bridge period experiencing the last of summer yet there is a fall feeling in the air particularly in the morning hours. We have so much to share with you, so much happening at The John Clarke Retirement Center.
To catch you up on our first edition in a while, we have completed our annual state and federal survey for 2019 and we had a deficiency free survey. It is a testament to a great staff and leadership team doing whatever it takes every day to deliver great care and customer service.
We are about to have our annual Resident and Family satisfaction survey in November. Surveys will be mailed out independently by Service Trac, the State contracted company, to our family members and given to our residents here at John Clarke. This is our once a year publicly reported "Report Card" so to speak and I ask that you consider giving us the highest scores possible. If you have any concerns please call me and I will be happy to meet with you to resolve your concerns. It is very important that you take a couple of minutes to complete this survey and return it. Our scores from family members will not be reported unless a majority of the surveys are completed and returned. Thank you so much in advance for your assistance.
I want to congratulate our recent "Whatever it Takes" winners: Shawn Lull in August and Natasha Clarke in September. Shawn and Natasha represent the best in our staff they are very committed to John Clarke and our residents and do "Whatever it Takes". We honor them with this recognition.
I wish you all the very best of the month, please come and experience fall with us during our many wonderful activities.
Best wishes,
Hugh Hall, Administrator
We extend our love and sympathy to the family and friends of the Rev M Harry Randall, who died in Maine on September 12th.
Mr. Randall became Pastor-Superintendent of the Baptist Home of Rhode Island, the forerunner of the John Clarke Retirement Center, in 1965. Located on Shepard Avenue in Newport, the Baptist Home began as living space for fourteen senior couples. Adding a minimal nursing unit in the 1960's, it became the John Clarke Center, in its brand new building at its present location, in 1980.
Mr. Randall oversaw these transitions, displaying care and kindness to residents and staff members alike, until his retirement as Administrator in 1990.
Please join us at our Service of Remembrance, in memory of deceased residents of the John Clarke Retirement Center community, Wednesday, October 9, at 2:00 pm, in the main dining room of the Nursing Center.
Apple Crisp
Ingredients
10 cups all-purpose apples, peeled, cored and sliced (use ½ Granny Smith ½ Fugi approximately 5 each)
• 1 cup white sugar
• 1 tablespoon all-purpose flour
• 1 teaspoon ground cinnamon
• 1/2 cup water
• 1 cup quick-cooking oats
• Table spoon butter to grease pan
Topping
1 cup all-purpose flour
• 1 cup packed brown sugar
• 1/4 teaspoon baking powder
• 1/4 teaspoon baking soda
• 1/2 cup butter, melted
Directions
Preheat oven to 350 degrees F.
• Butter (grease) 9×13 inch pan
• In large bowl mix the apples, white sugar, 1 tablespoon flour and ground cinnamon.
• Pour mixture in pan then pour water evenly over all.
• Combine the oats, 1 cup flour, brown sugar, baking powder, baking soda and melted butter together. Crumble evenly over the apple mixture.
• Bake at 350 degrees F (175 degrees C) for about 45 minutes until sides bubble.